Times like the present are stressful for investors. No one likes to see their wealth fall and uncertainty seems very high. We don't have a perfect crystal ball, so from the point of sensible long-term investing the following points are worth bearing in mind.
First, periodic sharp setbacks in share markets are healthy and normal as can be seen in the next chart. The setbacks are the price we pay for the higher long-term return from shares. After 25% or so gains from their lows last December shares were at risk of a correction.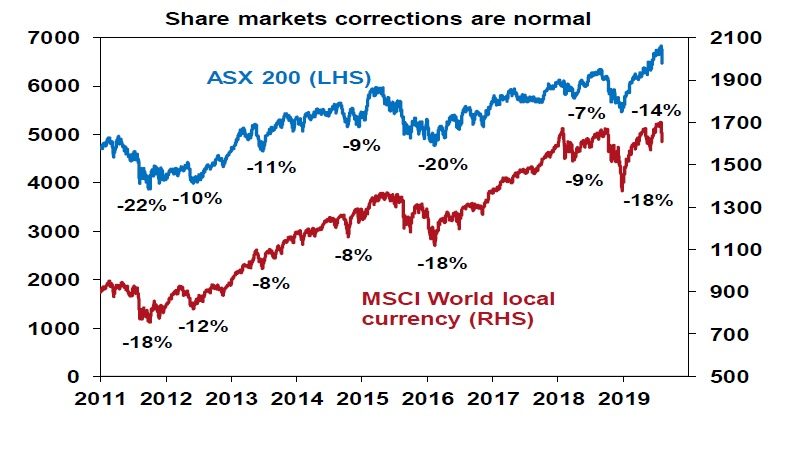 Source: Bloomberg, AMP Capital
Second, selling shares or switching to a more conservative strategy after a major fall just locks in a loss. The best way to guard against selling on the basis of emotion is to adopt a well thought out, long-term investment strategy.
Third, when growth assets fall they are cheaper and offer higher long-term return prospects. So, the key is to look for opportunities that pullbacks provide.
Fourth, while shares may be falling in value, the dividends from the market aren't. The income flow you are receiving from a diversified portfolio of shares remains attractive.
Fifth, shares often bottom at the point of maximum bearishness. So, when everyone is negative and cautious it's often time to buy.
Finally, turn down the noise on financial news. In periods of market turmoil, the flow of negative news reaches fever pitch, which makes it very hard to stick to a well-considered, long-term strategy, let alone see the opportunities.