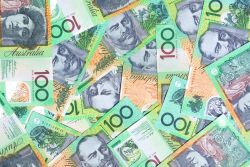 The price of a lowly head of lettuce has never been a recognised barometer of the strength of the Australian economy, that is until the media started reporting iceberg lettuces were selling for $10 a head.
Suddenly, this has become a touchstone for everything that is wrong with the domestic economy. Prices are on the rise, spurred by higher transport costs and climate-based disruptions to the food chain, and the cost of living is surging.
While some relief came with an unexpected 5.2 per cent increase in the basic wage, a move endorsed by the newly elected Federal Government, the prospect of similar inflation linked wage increases were dismissed as a 'baby boomer fantasy' by the trade union movement.
Nonetheless, fears of further wage increases remain. So, all eyes are now focused on price rises with the most recent figures from the Australian Bureau of Statistics, pegging Australia's rate of inflation at 5.1 per cent per annum.
As bad as this might seem, it is still one of the lowest inflation rates among OECD nations, beaten only by Japan and Switzerland, at the bottom of the inflation table with 2.5 per cent, followed by Israel on 4.0 per cent, and Korea and France with 4.8 per cent.
However, with inflation in the United States at 8.3 per cent and 7.8 per cent in the United Kingdom and both countries expecting this rate to go higher, the fear is Australia's rate will start moving towards 7 per cent – a rate not seen in Australia for more than 20 years.
Inflationary fears were made worse by the Governor of the Reserve Bank, Phil Lowe, calling for "front-loaded" interest rate hikes to avoid stagflation and warning against any super-sized wage claims.
Just the mere mention of stagflation, something not seen since the seventies, has sent a shiver through the economy.
This drove fears that home loan interest rates will also be pushed higher, causing more financial stress for those who have borrowed heavily and bought property at the recent record-high prices.
While all four of the big banks are reporting current home loan arrears at record low levels and the majority of customers are tracking well ahead on their home loan repayments, fears still remain about the impact of higher interest rates.
Property prices have already started to slide with industry analysts expecting the average prices in Melbourne and Sydney to fall by 10 per cent this calendar year and by potentially as much again next financial year.
Meanwhile, the value of cryptocurrencies, which seems to magnify prevailing market sentiments, has collapsed across the board with values falling by as much as 70 per cent.
The largest single cryptocurrency, Bitcoin, which was trading at just $US67.81 in July 06, 2013, soared as high as $US68,000 last November, is currently trading at $US20,200, with little market enthusiasm.
While cryptocurrency was once touted as being something of a safe haven and a means of diversifying investment portfolios, it is fast becoming a magnifier of market excess and pessimistic economic sentiment.